Traser Red Combat Watch
The Traser Red Combat Watch is a timepiece that's been specifically designed for the demands of military and tactical operations, of which it lives up to its potential while being an exceptional everyday wear kit.
$595 USD | BUY THIS »
As a Special Forces operator, I'm no stranger to challenging environments and high-pressure situations. Having a reliable, rugged, and functional watch is essential for staying on top of mission-critical tasks. This intel is in regards to my experience and opinions of the Red Combat Watch series by Traser.
Design and Build Quality
The first thing I noticed about the Traser Red Combat Watch is its robust build quality. The stainless steel and carbon fiber case with a scratch-resistant sapphire crystal offer excellent protection against the inevitable bumps and scrapes encountered in the field. The watch's water resistance of up to 200 meters ensures it can withstand even the most intense underwater operations.
The red illumination on the dial is a standout feature. The watch uses Traser's signature trigalight® technology, which combines self-activated tritium gas illumination with Super-LumiNova pigments.
This unique system provides exceptional low-light visibility without the need for external light sources or battery power. Having a watch that's easily readable in all lighting conditions is crucial for mission success while having a watch that's subdued.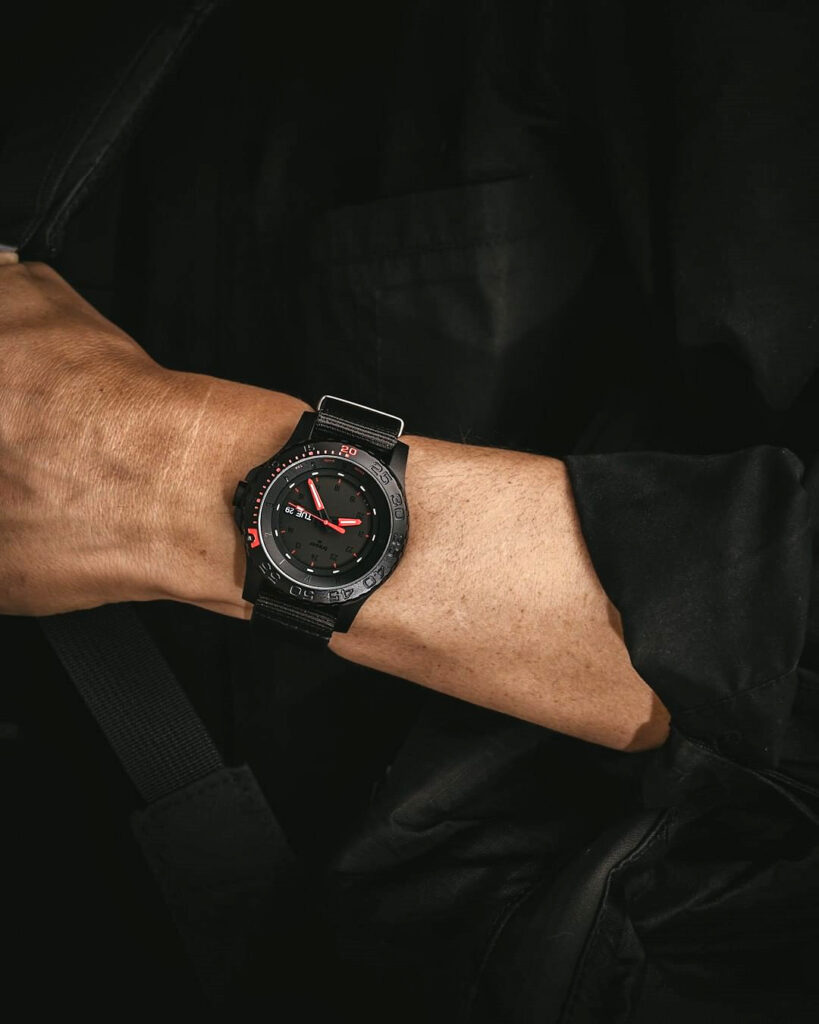 Functionality and Performance
The Traser Red Combat Watch is designed with functionality in mind. Its Swiss-made quartz movement ensures precise timekeeping, while the bidirectional rotating bezel allows for quick and easy timing and counting of various events. The date / date display is a practical addition, ensuring I don't lose track of time during extended operations.
The watch features a screw-down crown, which contributes to its water resistance and prevents unintentional adjustments. The silicone (rubber) strap is both comfortable and durable, making it suitable for long-term wear during high-intensity missions.
Discreteness and Tactical Advantage
During missions and certain street scenarios, maintaining a low profile is essential. The Traser Red Combat Watch's black PVD-coated case and matte finish ensure it won't give away my position by reflecting light. The red illumination is not only functional but also provides a tactical advantage, as it's less likely to be seen by the enemy compared to traditional green or blue luminescence.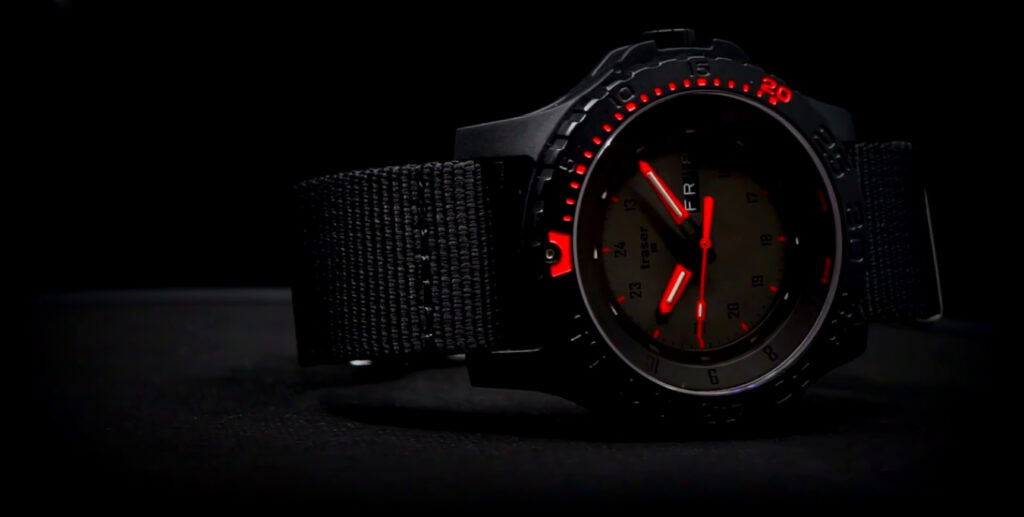 Versus G-Shock
When comparing the Traser Red Combat Watch to a high-end G-Shock, there are several factors to consider. Each brand has its own unique features and strengths that cater to different preferences and requirements. Here's a comparison of some key aspects:
Both Traser and G-Shock watches are known for their durability and rugged construction. G-Shock watches, in particular, are designed to resist shocks, vibrations, and harsh environments. The Traser Red Combat Watch also boasts a robust steel / carbon fiber case and scratch-resistant sapphire crystal, making it suitable for tough conditions.
The Traser Red Combat Watch uses Traser's signature trigalight® technology, offering excellent low-light visibility without relying on external light sources or battery power. High-end G-Shocks typically use electroluminescent backlighting or LED illumination, which requires battery power and may be less efficient in terms of energy consumption. The red illumination of the Traser watch also provides a tactical advantage in certain situations.
The "correct" choice between a G-Shock and Traser depends on individual preferences and requirements. Each brand may make very different watches, but it can be used for the same exact purposes.
The Operator's Watch
Overall, the Traser Red Combat Watch is an exceptional timepiece for Special Forces operators and law enforcement professionals alike. Its rugged construction, advanced illumination technology, and practical features make it the perfect companion for demanding missions. The watch's discrete appearance and tactical advantages further solidify its place as an invaluable piece of gear for any operator.
I highly recommend the Traser Red Combat Watch for those seeking a reliable, functional and durable watch that's built to withstand the rigors of military and tactical operations as well as being a care-free daily driver.
$595 USD | BUY THIS »
---