The Urban Survival EDC
A street guise-civilian tactical urban survival EDC (everyday carry) and minimalist loadout kit for potentially moderately hostile environments.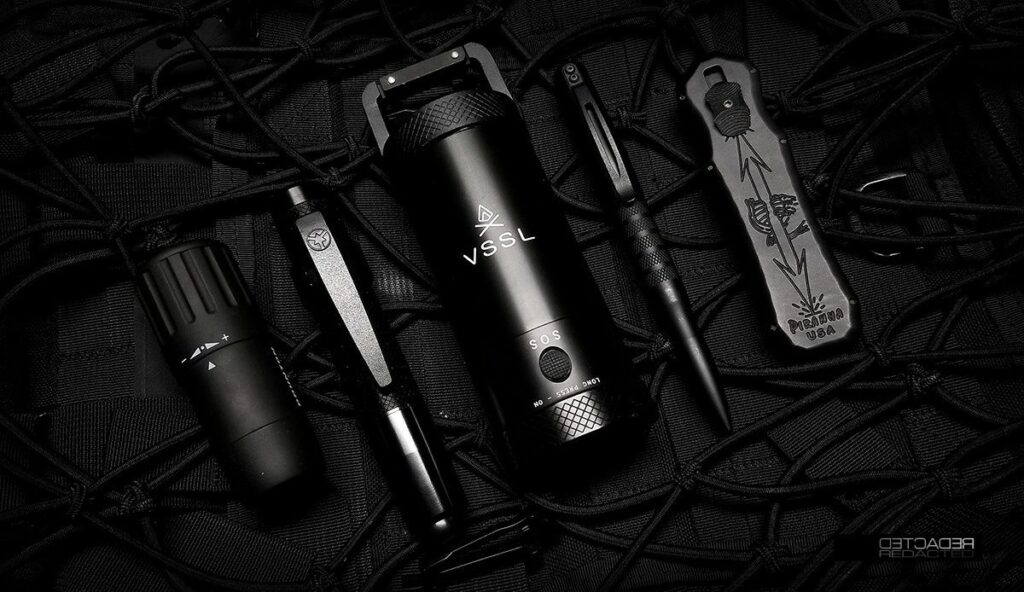 ---
VSSL MINI CACHE W/ KIT
The smaller, more mobile version of the high-end and rugged capsule container by VSSL. The waterproof end cap is integrated with a powerful 200 lumens flashlight and the top with an oil filled compass.
Within the cache are essentials-only urban survival EDC tools and a micro first aid kit.
The kit includes; Swiss Tech Micro Multi-Tool, Kevlar Cordage, Micro Light Stick, Stealth SERE Kit, Gore-Tex Tape, Tinder Quik and Nylon Coated Wire.
-Available for about $75 + Kit >>>
---
PIRANHA EXCALIBUR KNIFE
An overbuilt and tactical double action out-the-front automatic knife. Reminiscent of the famed and highly coveted Desert Knife Works Sand Shark, this is one of the most reliable and combat usable medium sized switchblades in production.
The "button fire" blade deployment, perfect bilateral symmetry, ruggedized build and premium materials makes this a most ideal street CQC tool.
Due to the dagger blade profile (double edged), 3.125″ blade and automatic firing mechanism, this is widely illegal for carry around the world. Which is why my standard EDC knife for "normal" carry is the Guardian Tactical Exilis Knife.
---
ECHO MONOCULAR
This is a Brunton made pocket scope with a field of view of 181 feet and a magnification of x7. Extremely compact at just 1.3 x 3.3, this cost-effective and ideal size makes it perfect for the relatively tight confines of urban scenarios.
The BaK-4 prism glass, multi-coated optics, rubberized casing and carry holster makes this the best option at this price point
For the money, the Echo is unbeatable but for the defacto specialist EDC'able monocular, I recommend the Zeiss 4×12 T.
---
OPERATOR PEN
Precision writing instrument first and tactical CQC device second while equally effective as both but as inconspicuous as the former. I would almost categorize this as a luxury item if it wasn't so damn tank-like.
This has been a trusty part of my urban survival EDC and overall packing list since acquiring it years ago.
There are plenty of detractors when it comes to the "tactical pen", but trust me, they have significant potential – especially for special circumstance situations and in non-permissive environments.
---
ASP P12 BATON
One of if not the best and most compact (without loss of effectiveness) tactical expandable batons currently in production. For such a concealable and compact tool, the potential power of control and damage is staggering.
Undeployed, the baton is about the size of a thick permanent marker and weighs slightly more than an average tactical knife.
Unfortunately, expanding batons are one of the most prohibited weapons for civilian carry worldwide. Regardless, these are also one of the best self-defense tools in terms of effectiveness and usability.
---